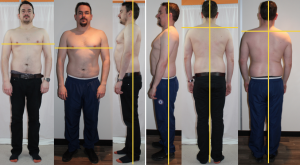 After suffering a lower back injury, I had an MRI which showed bulges at L4 and L5, causing significant pain and I was told that nerve injections would be the way forward with possible surgery if that didn't help but I should build my core strength first.
Whilst working with a local physiotherapist, I initially came to Team Breakthrough just for massage therapy but whilst there it was suggested that I also try training as an aid to core strength which is when I first met George Youel.
It quickly became apparent that not only is George a fantastically dedicated person who has a truly exceptional understanding of the human body, his approach had much more impact than that of the Physiotherapist. Over the months we've worked together he's recommended exercises that are specifically targeted to my needs and has always explained why and how they work to fix the underlying issues.
Ten months have now passed and I'm virtually pain free although more importantly, I haven't had to have any injections, surgery or other intervention to get there! I can highly recommend George and the whole Team Breakthrough gang, the knowledge and enthusiasm they have is truly exceptional. 
(Even for a Manchester United Supporter)